Recap & Insights - Marty Cagan's TRANSFORMED Workshop: Achieving Product Transformation And Sustainable Innovation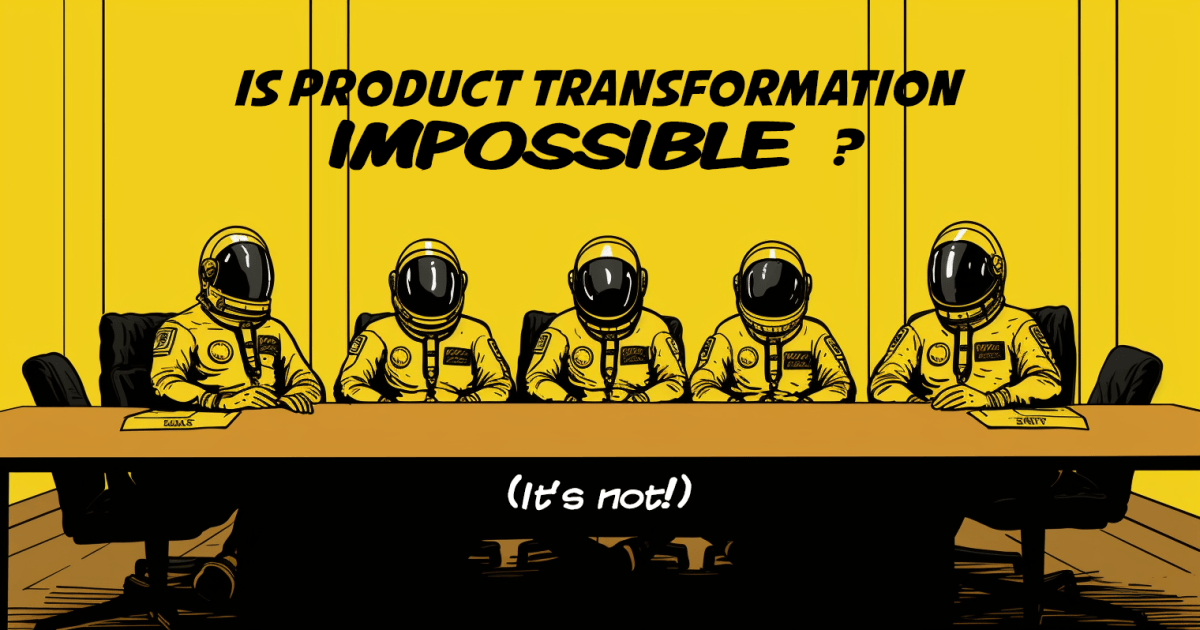 Last week, I was thrilled to join the first round of workshops dedicated to product transformations run by Marty Cagan and the Silicon Valley Product Group. The anticipation around these workshops was for the upcoming release of Cagan's book, TRANSFORMED, set to launch in early 2024.
Following the success of INSPIRED, aimed at team members in product development, and EMPOWERED, intended for product managers and leaders, TRANSFORMED takes a step further. The goal now is to engage with company executives and business unit heads. TRANSFORMED aims to enable and catalyze the changes necessary for the successful application of the principles and practices shared in Cagan's earlier works, thereby fostering an environment of product transformation and sustainable innovation.
From this workshop, I took away three key insights:
Lesson 1: Product Success Isn't Limited to Silicon Valley's Big Tech
The main critique of Marty Cagan's work is that his principles only apply to digital, internet-era companies. Critics argue they aren't transferable to large organizations or those carrying a "legacy." TRANSFORMED disproves this view with detailed case studies from industries such as healthcare, transport, media, travel, and finance. These companies have not only successfully applied the principles of INSPIRED and EMPOWERED, but they've demonstrated such outstanding results that industry giants like Google, Amazon, and Apple are referring to them as examples to follow!
Lesson 2: A successful Product Transformation Requires Powerful External Enablers and Coaching
One surprising-but-not-so-surprising revelation from the workshops was the importance of external catalysts in a successful product transformation. I think it's a brutal conclusion because many smart people and organizations will train, learn, practice and try to transform by themselves. But the effectiveness of this approach is not confirmed by experience. Based on industry research and successful examples:
Either there was a complete reset of the product leadership team (CPO, CTO at a minimum) with the arrival of experienced leaders on the product model who massively coached their organization.
Or there were product coaches " who had been there done that" deeply integrated into the transformation effort, with an ability to act well beyond a benevolent presence and daily experience sharing.
No enabler, no transformation. Or at least, we are still looking for an example! Don't hesitate to comment or contact us if you have any"examples in mind!
Lesson 3: AI is Crucial for Large-Scale Transformation
Drawing from my experience at Homeric Technologies, it became clear that AI is pivotal in successfully propagating good practices and establishing a product-focused culture in an organization. Given the complexity of global companies with multiple independent business units, it's unrealistic to think transformation can be achieved without the aid of AI and related tools to augment the reach, influence and impact of the enablers who will make or break your transformation. I'm more convinced than ever that the technology we develop can make a huge difference. Let's do it!
Our "AI-Powered Playbooks" have now been successfully deployed in about fifteen countries. Regardless of the size of the organization, these playbooks allow the product culture to thrive every day, thereby facilitating empowerment and product innovation.
Are you ready for your own product transformation journey? What are the key challenges and blockers you face at an organizational level? Feel free to leave a comment or get in touch if you have any questions or insights to share.